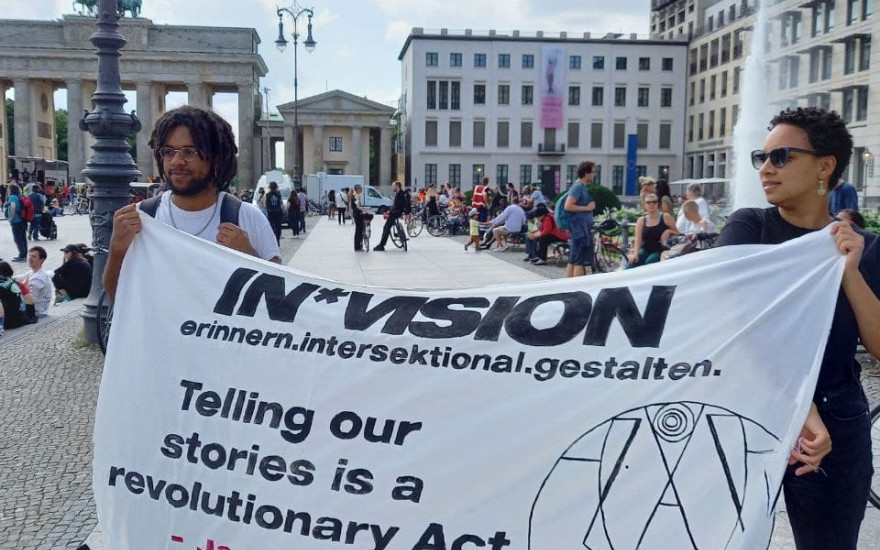 Hello dear ones,
Here comes the next update on the planning status of the IN*VISION.
Quite a lot has happened since May.
AG Work
The AG Work has started well. Currently there are 26 different WGs, which take care of all different areas of the IN*VISION. The big part of the work is to write messages with different people and groups and to find people for different tasks. Among others speakers, DJs, light technicians, translators, homepage administrators, photographers, consultants for awareness concepts and barrier reduction,tour bus companies or also with authorities because of official requirements of the district. Another big task is to develop concepts and to consider how to make them transparent. How can we reduce barriers on the IN*VISION? How do we implement our motto shape.remembrance.intersectionally in terms of content? How do we organize the daily shuttle from the sleeping places to the festival area? And many many more questions.
For a five-day event with 450 people and over 100 different workshops, that's a lot.
Unfortunately, two thirds of the AG members who joined in April have already left the AGs for various reasons, so we are quite understaffed. Especially because the whole organization is done on a volunteer basis, we are under a lot of pressure.
Helpers and Helpers weekend
Until the 7th of June the registration for helpers was open. Here people could register early for the IN*VISION to take shifts in different teams at the IN*VISION. There are for example the Awareness-Team, the Bar-Team, the Infopoint-Team or the Shuttle-Team. We were very happy about your great interest. Nearly 150 people have registered in this course, which were then divided by us into different teams. On the 3rd and 4th of July we organized a helpers weekend, where the teams received a first introduction to their tasks from us. We hope that this will continue as well as before and that we will have many people at the IN*VISION who will support us in the different shifts.
Set-up weekend and conception trips
Since May we have been on the road for the IN*VISION on three more weekends. Two times we went away as the core-orga group to be able to concentrate on important concepts and agreements between different AGs in a calm and focused way. These weekends were very work-intensive but it also felt good to be able to clarify things directly with each other.
In June we were additionally on the festival area with some other helpers and started to clean up and renovate things and especially to measure and document many places very precisely, so that we can also prepare well from Berlin. This is especially important for the AGs Barrier Reduction and Build-Up.
Homepage
Because we want to rethink and change many things, we also have to change many texts on the homepage or create them completely new. Unfortunately, this is going slower than we had imagined, but nevertheless you can find some updated texts in the meantime. We have marked old information, which still gives you a good insight, as such. There it says "Text is from 2019 and will be updated" or similar.
Phew, today the timer shows 49 days to go and we're really spinning our wheels. We hope you are as excited as we are and have already signed up registered.
By the way, we hope to start announcing the acts and speakers in July. By now we can already tell you that really the greatest people will come together :)
Greetings,
Your IN*VISION Crew